40 years manufacturing experience
Flow Technology manufacture Stainless Steel and High Nickel Alloy products to all the relevant UK and International standards.
Our manufacturing and processing capabilities ensures a rapid turnaround from receiving your enquiry to completion of your order. In addition to this our stock ranges are ever increasing and expansion of the business location has enabled us to now boast a large warehouse and manufacturing capacity.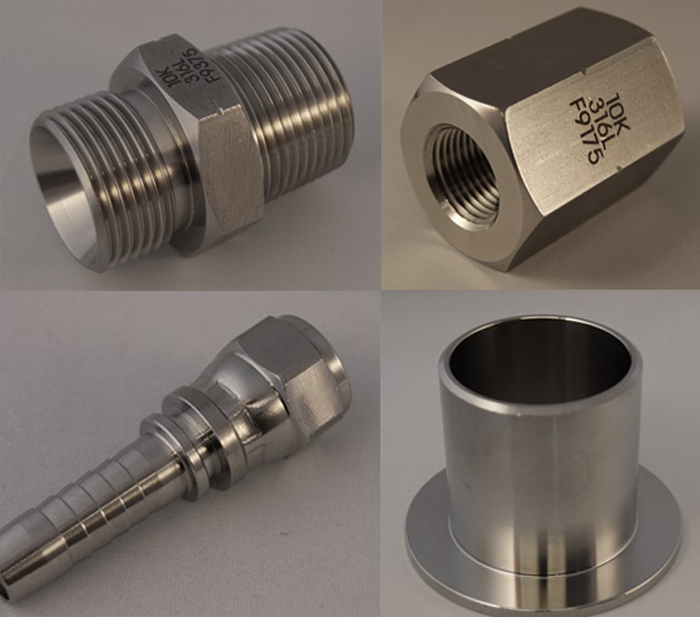 The latest in CNC machining
This includes sliding head technology is used to supply products from stock and manufacture non-standard, special components and fittings on a short lead time.
Small batch work is also accommodated for in our fully equipped modern machine shop.
BS EN ISO 9001 approval
Our commitment to quality and high performance remains our key business ethic and as a manufacturer we were given BS EN ISO 9001 approval at our first assessment.
Since then, we have subsequently developed a long standing partnership with Bureau Veritas, our certification body.
This approval and strict quality control ensures that the product meets your exact requirements.
Test Certificate system
Our Test Certificate system ensures total material traceability and certification is provided as a matter of course.
We are committed to offering a high level of service in producing an accurate and reliable response to your enquiries and purchases. The service we offer gives you the benefit of 40 years involvement in the Stainless Steel and High Nickel Alloy pipeline component market.
Materials Supplied

Materials supplied are wide ranging and include standard off the shelf grades 316L and 304L Stainless Steels, Duplex and Super Duplex Stainless Steels, Alloys 400, 600, 625 and 825, Aluminium, Brass and Carbon Steels.
Shop online or contact our sales team for stock or specialist items, we guarantee a fast response and high quality product.